Prevent | Rescue | Recycle
REDUCE WASTED FOOD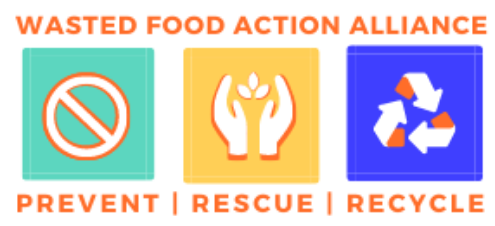 WFAA members share why they think
reducing wasted food matters
Check out what our members are saying…
→
To add your own quote or video, please complete this form:
The Problem
From the farm to our refrigerators, food is wasted throughout the supply chain.
Illinois has more than 74,000 farms covering some 27 million acres, or about 75% of the state's total land area.
In Illinois, food insecurity is a problem that makes it troubling that so much good edible food is being thrown into the landfill, rather than to people's plates.
Wasted food also degrades the environment and wastes resources such as fresh water and soil nutrients.
The Solutions
GOAL – Reduce wasted food in Illinois through prevention, rescue and recycling.
___________________________________________________________
PRIORITY SOLUTIONS
Promote and connect wasted food prevention, rescue and recycling services and programs.
Support schools and institutions to reduce wasted food and expand food waste reduction education and activities.
Develop and support policy addressing wasted food prevention, rescue, and recycling.
A diverse set of organizations helping build a unified approach towards reducing wasted food and leveraging it to benefit our region.
Collaborate to combat wasted food by creating solutions geared toward the US EPA hierarchy preventing food loss, rescuing/redistributing edible food, and recycling food through composting and other technologies.
To develop a working strategy and action platform that makes Illinois a leader in reducing wasted food by connecting and building on current wasted food initiatives, education, and policy in unified ways that holistically promote source reduction; food recovery for hunger relief and other uses; and recovery of food scraps for composting and creating healthy soil.
Our Values
Collaboration
We build strong connections and engagement among rural and urban stakeholders in the Illinois food system, including support for the Illinois agriculture community.
Education
We strive to develop replicable and scalable models that educate statewide stakeholders on best practices for reducing food waste.
Good Stewardship and Sustainability
We value the links between reducing food waste and increasing healthy agricultural practices that are good for the soil, farmers, and food.
Equity
We value a community that is not only inclusive and respectful, but also strives to create economic opportunities and serve the needs of disadvantaged or underprivileged populations and communities.
WFAA by the Numbers
The Wasted Food Action Alliance was formed in response to the 2016 ReFED Report addressing national concern for the amount of food wasted in the United States. A multistakeholder approach was needed and included leading food businesses, solid waste agencies, environmental and hunger organizations, policymakers, and innovators. The group has grown both in number of members and focus, with each member contributing unique perspectives and expertise on the challenges and opportunities for waste reduction across the food supply chain.
The Greater Chicago Food Depository is planning a "seismic shift" in its operations to focus on home-delivered meals as it anticipates mounting demand from the elderly, people with disabilities and others who can't always to make it to a food pantry.
The Midwest's largest food bank plans to build a 40,000-square-foot kitchen on a vacant lot adjacent to its headquarters on Chicago's Southwest Side, where it will prepare meals for home delivery. Once fully operational, the kitchen will be able to produce 4 million meals a year.
EPA honors Savor Chicago with Food Recovery Challenge award – U.S. Environmental Protection Agency (EPA) today honored Savor Chicago, the food and beverage provider for Chicago's McCormick Place, with the 2018 Regional Food Recovery Challenge award.
"EPA congratulates Savor Chicago for cutting food waste and recycling food scraps," said EPA Region 5 Administrator Cathy Stepp. "Participants in Region 5's 2017 Food Recovery Challenge stopped more than 200,000 tons of food scrap from going to landfills."
Food Scraps Composting Grows In Illinois – "Going from 45 permitted composting facilities only taking yard trimmings to 12 to 14 adding food scraps happened through a lot of work done by IFSC members supporting policy and infrastructure change," recalls Jennifer Nelson, IFSC board member and education committee chair and senior program manager for Seven Generations Ahead. "Illinois has better infrastructure, more municipalities offering residential food scraps collection, and more institutions composting their organics or having their organics hauled to a commercial processor," she adds. As of July 2019, Illinois had 47 municipalities offering food scraps collection.